Ô MUR DECORATION & Ô MUR RENOVATION : A SOLUTION FOR ALL YOUR PROJECTS





The Ô MUR system is universal and adapts to all clip-on floors on the market. A multitude of decorations are available for a cosi and modern decoration at the same time.


Ô MUR DECORATION system plays with materials to decorate your home. This solution for installing parquet flooring on the wall will allow you to create a unique wall decoration adapted to your style and desires.

Ô MUR RENOVATION system allows you to renovate attics in a simple, quick and original way. The aluminium studs Ô MUR are perfectly adapted for an installation under the roof.
The installation of the Ô MUR RENOVATION system is as easy and quick as the installation of a floor covering for a modern renovation of your interior.


The Ô MUR system, an ultra trendy wall installation, makes it possible to quickly redesign a room by facilitating the installation of a covering initially intended for the floor on the wall. An original way to rethink the total or partial covering of the walls, to change the paint or wallpaper.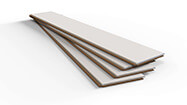 Click Ô MUR
These panels allow you to have the complete installation kit in order to realize your project Ô MUR Renovation or Decoration.

It is up to you to leave the white panels plain or paint them in the colour of your choice.

Width 30cm, Length: 120 cm and thickness 8 cm
Profils 3 in 1
Foldable finishing profiles that easily adapt to all finishing needs.
They will complete your Ô MUR project in order to achieve perfect finishes for your walls.
The 3 in 1 profiles of Ô MUR are adhesively attached.
6 profile colours are available, including 1 ready to paint to suit all interior decorations.